'OCD' Dating Sites*
Aside from one of the best free online dating sites for singles with Obsessive-Compulsive Disorder - OCD OCD OCD Passions (which you are on now)...the site listed below is one of the only other OCD specific dating sites we could find. More will be added as they are discovered. Since OCD OCD OCD Passions is free, you might as well join the site below to meet singles who aren't members of this site and who are dealing with the same issues you are. Have fun!
AD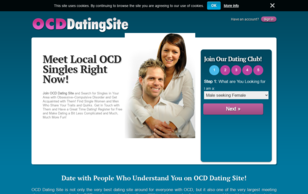 OCD Dating Site
Find Singles Who Understand!
If you are dealing with Obsessive-compulsive disorder and you are looking for others to talk with about it, or possibly to date, then OCD Dating Site might be the site for you. The members of the site understand what it is like to have OCD and depending on chemistry, maybe you'll even find someone you are interested in dating. Join for free and have fun!
AD
*Sites listed on this page are a combination of ads, affiliate related Sites and general non-partnership related sites that match the theme of OCD OCD OCD Passions.